What Are Gaskets?
Gaskets are devices which fill the space between mating surfaces of mechanical components for the purpose of sealing the mechanical device from unwanted liquid or gas exposure.
How Do Gaskets Work?
In order to prevent the passage of liquid or gas, gaskets must create a tight enough pressure seal between the two surfaces. The trick is that the gasket must be able to maintain this tight seal while being able to the resist tearing and creeping under operating conditions of the moving parts.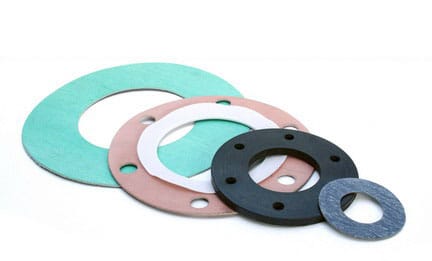 What Are Gaskets Made Of?
Gaskets are usually made of or include flexible material such as rubber. Rubber seals are compressible, and are therefore able to conform to the shape of the harder surfaces between which it is placed.
What Is the Difference between Gaskets and O-Rings?
O-rings, much like gaskets, are used for sealing between hard surfaces. The difference is, although gaskets can be made of variety of materials, o-rings are made almost exclusively of synthetic rubber or rubber-like plastics. O-rings are also usually circular in shape and known for their high pressure resistance where regular gaskets' resistance would be sufficient.
Where Are Gaskets Found?
Gaskets can be found in electronics, cars, appliances, pipes, many machinery, and building structures. Gaskets are being used for liquid sealing, gas sealing, or as seal guards against dust and other contaminants. Gaskets are also being used for anti-vibration and display mounting to protect sensitive units from shock, dust, liquid, or other particles.
Learn More: http://www.ramgaskets.com/types-of-gaskets/
Please fill out the form below to receive information regarding your inquiry. You can give us a call at

(626) 965-9966

, or please bare with us while we reply to your inquiry.
[contact-form-7 404 "Not Found"]