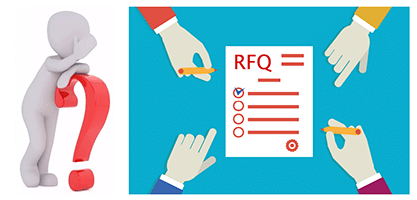 Not all purchasing professionals are aware of the component information required by a rubber manufacturer to quote a rubber project. Occasionally, missing information in a Request for Quote may delay generation of the quotes or hiccups during the pre-production process. On the other hand, excessive requirements may drive up cost on a project or, in worse cases, render a rubber product un-manufacturable. Please read on to learn more about how you can ensure a timely and accurate quote for rubber products.
What You Need (to Get a Quote for Rubber)
Here are the most basic information you need to get a quote for a rubber project:
Engineering Drawing
Material
Estimated Annual Usage
The engineering drawing can be a 2D print or a 3D data file. The material, color, test standards, tolerances, and all key characteristics should be clearly identified within the drawing.
All material call-outs for rubber must include a hardness specification. As you might have noticed, rubber can come in a variety of types from Natural Rubber, SBR, EPDM, to Silicone; and with hardness ranging from hard, medium, soft, to sponge and foam depending on the application required of the part. Take a look at our rubber durometer chart for a list of rubber hardness ratings.
Example
An example of a simple rubber material call-out is "EPDM Rubber 60 +/- 5 Shore A" seen in an engineering drawing sent for a quote for rubber. For more complex material requirements, an ASTM line call-out is typically used.
An estimated annual usage, or EAU, is the quantity of that part you project to purchase within a year. The manufacturer needs this information quote a tool size and design capable of meeting the projected production output.
"No Quote" or High Pricing – Why Did This Happen?
Sometimes you took all the right steps, but you still received a "No Quote" from the manufacturer on your project. Why did this happen? Your first step is to ask the manufacturer. The most common reasons are missing or discrepant information from the above, broken CAD files, or low production EAU.
Ask your engineering team to review specifications of the drawing to determine if certain high tolerances, obscure test requirements, or proprietary material brands are truly necessary.
About Coi Rubber Products
Coi Rubber Products, Inc. is a custom manufacturer of molded rubber and plastic components. Coi Rubber has over 28 years of experience in Engineering, Design, Compounding, Prototyping, and Production of molded rubber and plastics. Our capabilities include custom compounding, injection molding, compression molding, transfer molding, extrusions, rubber-to-metal bonding, insert over-molding, and more. We provide large scale production and engineering support to the Automotive, Industrial, Agriculture, Appliance, HVAC industries, and many more. Coi Rubber is IATF 16949:2016 and MBE certified.
Have a question? Please fill out the form below to receive information regarding your inquiry. You may also give us a call at

(626) 965-9966

.
[contact-form-7 404 "Not Found"]