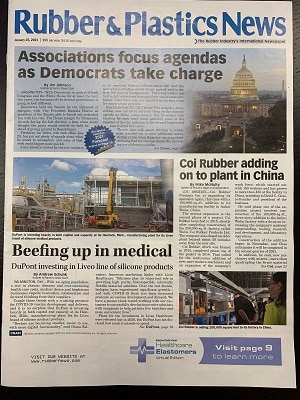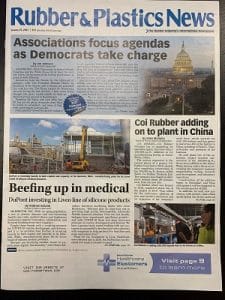 Coi Rubber Products, Inc., a rubber molding manufacturer, was established to service the Rubber & Plastics Industry. We started in molded products serving the agriculture industry. Since then, we have expanded our manufacturing to include rubber, plastic, thermoplastic, and bonded products using techniques such as molding, extrusion, and rubber-to-metal bonding. Coi Rubber serves a wide variety of industries; including Automotive, Industrial, Food Processing, HVAC, Appliance and others. We specialize in compression molded rubber, with capabilities to produce any custom rubber or plastic products, according to each client's needs.
Our clients enjoy competitive pricing, fast lead time, and US local customer and engineering service.
Custom Rubber Molding & Manufacturing
Coi Rubber Products is a full-service rubber molding manufacturer that has the some of the highest rubber standards in the US rubber industry. With over 28 years of experience in mixing, manufacturing, assembly, and distribution of custom molded rubber, as well as extruded and die cut products, we are recognized for our reliable product & delivery guarantee and outstanding customer service.
Coi Rubber Products manufactures custom rubber and plastic products for a variety of industries in the US and around the globe. We provide competitive pricing on all molded rubber products. Our rubber materials are unmatched in the industry – from custom engineered compounds to meet each client's specified requirements to in-house mixing and laboratory testing. Our quality management system is certified IATF 16949:2016 and ISO 9001:2015 compliant to meet the highest quality standards required by our client base.
We have an expert team of individuals who are qualified and ready to meet any product requirements necessary. This includes OEM, FDA grade requirements, military specifications, and any other custom specification that is needed within your industry. We have a large amount of experience to provide everything from the latest technological advances in rubber to complete streamlining in manufacturing and delivery.
Learn More About Custom Rubber Molding & Manufacturing
Have questions? Want to learn more?
How can switching to Coi Rubber save you on your supply chain?
What other competitive advantages does Coi Rubber offer to our clients?
How do you choose the best rubber material for your application and budget?
What do you need to get started in requesting custom molded rubber?
For answers to all these questions and more, please schedule a call with one of our professionally trained rubber experts today.