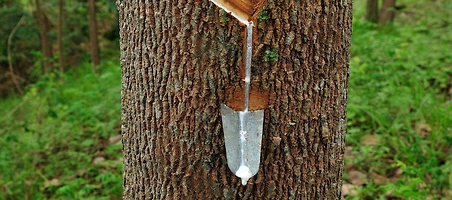 Where Rubber Comes From
A majority of the people you talk to would be shocked if you were to tell them where rubber comes from. Natural rubber actually comes from a tree known as Hevea brasiliensis. Hevea brasiliensis originated in Brazil but, now the tree can be found in many countries near the equator such as Indonesia, Malaysia, Cambodia, and Vietnam. Rubber was not always abundant. There was a time when natural rubber was scarce to the point that countries were desperate and started to explore any tree that they could find in their country that could possibly make rubber. This led the United States to come up with a plan in World War II by instructing citizens to collect rubber items to be salvaged to make tanks, boots, and tires. In addition, chemists were also involved as they were pressured to come up with a method to produce artificial rubber due to the country's million metric tons of rubber demand for the war. Within a few years, chemists were able to manufacture synthetic rubber and changed the rubbery industry forever. According to Statista, there is approximately 28 million metric tons of synthetic rubber produced annually.
About Coi Rubber
Coi Rubber Products, Inc. is a custom manufacturer of molded rubber and plastic components. Coi Rubber has over 28 years of experience in Engineering, Design, Compounding, Prototyping, and Production of molded rubber and plastics. Our capabilities include custom compounding, injection molding, compression molding, transfer molding, extrusions, rubber-to-metal bonding, insert over-molding, and more. We provide large scale production and engineering support to the Automotive, Industrial, Agriculture, Appliance, HVAC industries, and many more. Coi Rubber is ISO/TS 16949:2009 and MBE certified.
HAVE A QUESTION? PLEASE FILL OUT THE FORM BELOW TO RECEIVE INFORMATION REGARDING YOUR INQUIRY. YOU MAY ALSO GIVE US A CALL AT (626) 965-9966.
[contact-form-7 404 "Not Found"]